The lodge is placed in the northern sector of Rwanda, the beautiful lodge is situated in Musaze Rwanda, offering accommodation to travelers visiting the Volcanoes national park in Rwanda, this is the actual home to the Mountain gorillas, the park boasts a number of gorilla families that are present for client visit, it had a high diversity of plant and tree species the major flowers of the forest are the critically endangered mountain gorillas living in the national park they feed on roots, leaves and fruits from the parks many trees and bamboo the majestic creatures don't leave in captivity, together with troops of golden monkeys amongst primate species in this ecosystem, different kinds of mammals are present, with a variety of bird species, It is part of the series of Virunga mountains covering the Rwandan part that extends to the protected areas of Uganda and the democratic republic of Congo. It hosts five of the eight Virunga series, a research center for the American zoologist Dian Fossey who was so passionate about conservation of the mountain gorilla (gorilla belingei belingei) and her works are still prevailed to-date.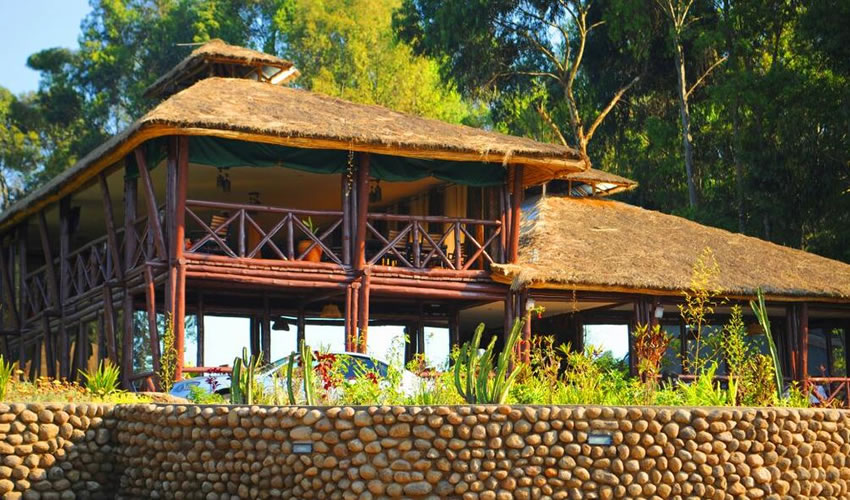 Da Vin ci lodge offers best accommodation to travelers that come to park with a total of 5 cottages marked from local material designed to blend with nature, varied in single, double or triple rooms these are individually placed featuring an en-suite bathroom, reading table, large opening window, fire place, free Wi-Fi, and a spacious living room the cottages stand on the shadows of Mount Karisimbi (4507m) above sea level on of the highest of Rwanda's volcanoes presenting a less congested environment. The main lodge has got surrounding beautiful environment, a free parking space, a restaurant lounge with an excellent bar and dinning space featuring a wall of large windows which look down to the volcanoes national park around a central fire place decorated in a pre-historic cave painting with a touch of the Rwandan traditional style. meals are both international and local on the vast Da Vinci menu accompanied by a charming well experienced staff who ensure guest satisfaction. Bush breakfast, lunches and dinners are perfectly arranged.
Da Vinci lodge is strategically located on a 20 minutes' drive to the park headquarters for trekking mountain gorillas a major attraction to the volcanoes national park home to a number of primate species which include the golden monkeys, it is a perfect stay for tourist who would love to visit Rwanda for mountain gorillas, other activities can be arranged like biking tours, nature walks around the national park, sight-seeing to Musanze cave or Virunga volcanoes.
Explore the land of a thousand hills to see more beautiful wonders, it is advisable to book tickets in advance to track mountain gorillas and golden monkeys, carry warm clothes especially in the evenings and early mornings, water proof covers for phones and cameras in case of rain, boots, rain gears, insect repellants for safety measures. The park receives a steady stream of rain and mist combined with a high altitude, with consistent temperatures due to its closeness to the equator 75 miles to the south, its best visited during the dry long and short dry season of December to February, June to mid-September.