Semuliki Safari Lodge is located in the Toro – Semuliki Game Reserve which was among the first game reserves to be gazette in the south western part of Uganda mainly to protect the large numbers of antelopes that live around this area on the floor of the great Albertine rift valley. The lodge was one of the first luxury facilities to be built in Uganda conservation areas and a solo accommodation covering 500 square kilometers of the wilderness.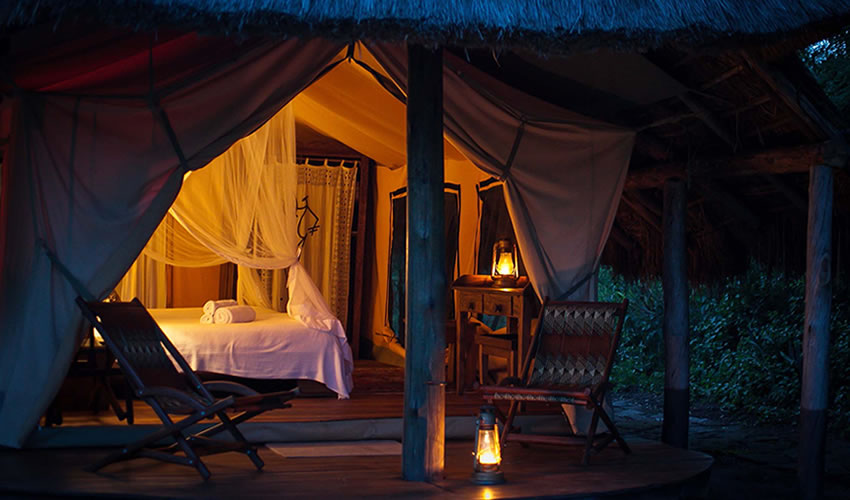 Toro-Semuliki was ounce a well-stocked wildlife center popular in east Africa but suffered a lot of poaching during the civil wars wildlife slowly started recovering after the Tanzanian war including lions which could probably be refugees from the democratic republic of Congo due to political instabilities and efforts of the Uganda wildlife authority to ensure safety of the game reserve through different sensitizations on how to control wildlife and also send away farm grazers of cattle from the national game reserve.
The lodge was built out of local materials, making it appear very traditional with a magnificent feeling of luxury and comfort in large canvas tents with permanent thatched roofs each tent with endowed crafts, Persian carpets and soft fleece blankets on each bed, every room consists of en-suite bathrooms having water plus private verandas offering great views a stay at the lodge is like taking you way back in time inspiring discovery.
The lodge is with 18 guest rooms accompanied with excellent service and attention to detail meeting up first impressions that go an extra mile having plenty of space in the lounge area, books to read, early morning tea of coffee with food finest of Uganda locally made.
A stay at the Semuliki safari lodge enables you to explore the game reserve without fear of where you will probably stay , a variety of plant and  animal species call Toro- Semuliki game reserve home and can also in the Semuliki national park ,it has got primates which include the vervet monkey, olive baboon, red tailed monkey, black and white colobus monkey, elephants, waterbucks, pygmy hippos, reedbucks, giant forest hogs, warthogs, buffaloes, lions, among others and hosts over 400 species of birds for example pelicans, the famous shoe bill, abyssian round horn bill, red necked falcons, herons, king fisher, African fish eagles. Its boosts three well maintained tracks that help you look out for this variety of game with game drives in the morning and in the afternoon.
The main lodge has a large open dining room open on one side with a large camp fire in front in the evenings one can look out to the Mugiri forest for primates like black and white colobus monkey, red-tailed monkey and chatter sounds of chimpanzee can be heard at a distance, a variety of activities can be participated in for example bird watching, primate walks, game drives both day and night and boat trips on lake Albert or opt for a visit to the Semuliki National Park for the famous Sempaya hot springs known for their traditional healings, the water can even boil an egg due to its high temperatures.
The lodge is located in western Uganda approximately 300km along Kampala-fort portal- Mubende road and 26 km further beyond the bridge over river Wasa.